Designing your perfect home is an exciting journey that leads you towards a living space that reflects your personality and style. The crucial decision lies in choosing the right interior design company who can replicate your vision into reality.
The role of an interior designer is more than mere designing. To ensure your home's transformation aligns with your desires, a designer has to imagine, plan and execute every step of the process with utmost care. Hence choosing the best interior design company to partner with you in the process is essential.
With invaluable insights from our experiences and clients' feedback, we have gathered the vital factors to guide you in choosing Chennai's finest interior design company.
Factors To Be Considered While Choosing Interior Design Company
When it comes to transforming your space, your choice of Interior Design Company can make all the difference. With numerous choices out there, there are various factors you need to consider when choosing the interior designer. From design style compatibility to budget considerations, each factor plays a crucial role in ensuring your design journey is not just smooth, but also incredibly rewarding.
Discover Your Style Preferences
Before engaging an interior designer, take the time to explore and understand your personal style preferences. Whether your taste leans toward contemporary, traditional, industrial, or a unique blend, having a well-defined style preference serves as a guiding principle for the design process. This clarity enables effective communication with the designer and ensures that the final outcome resonates harmoniously with your visual expectations. Your home's ambiance should authentically reflect your personality, and pinpointing your style preference is the initial step toward achieving the final result.
Assess the Quality of Work
A comprehensive assessment of the designer's work quality is essential. Thoroughly examine their portfolio, paying close attention to projects that closely resemble your intended style and specifications. Scrutinize their expertise in execution, the finesse of their craftsmanship, and their adeptness in offering innovative design resolutions. Analyze their functionality and aesthetics from their completed spaces. By evaluating the consistency and superiority of their work, you can ascertain the alignment between their design philosophy and your expectations.
Plan Your Budget
Determine how much you are willing to invest in the entire design process, including materials, labor, and any additional expenses. A well-defined budget provides both you and the designer with a framework to work within. It enables the designer to recommend suitable options and prevents unexpected financial strain during the project. Openly communicate your budget constraints with the designer to ensure that their proposed concepts align with your financial boundaries. A transparent budgeting approach sets the stage for a smoother collaboration and helps you achieve a satisfying outcome without compromising your financial stability.
Confirm Designer Availability
Prior to making your selection, it's important to validate the interior designer's availability. Due to varying project commitments, some designers may have limited capacity to take on new assignments. Opting for a designer with suitable availability ensures an optimal allocation of time and resources to your project. This guarantees a focused and unhindered design process. Initiate discussions about project timelines and key milestones at initial stages of the project. The strategic choice of a designer whose schedule aligns with your project's requirements is pivotal for achieving punctual and gratifying project outcomes.
Set an appointment for a face-to-face discussion
Initiate the arrangement of an on-site meeting to engage in a direct, face-to-face interaction with the interior designer. This essential step provides a platform for assessing their professional demeanor, communication proficiency, and degree of investment in your project. This occasion is conducive to an informed exchange of inquiries, creative ideation, and resolution of potential ambiguities. The on-site consultation cultivates a deeper synergy between you and the designer, thereby augmenting the overall efficacy of the partnership. This engenders a rapport that fosters mutual assurance, underscoring the designer's adept comprehension of your aspirations and their ability to proficiently materialize them within the design blueprint.
Be open to ideas
Embracing openness to innovative concepts is paramount when collaborating with an interior designer. While you may have a clear vision, remaining open to fresh perspectives can enhance the final outcome. A skilled designer brings a wealth of creative insights and practical solutions to the table. Engaging in productive discussions, where your ideas meet their expertise, can lead to refined designs that you might not have considered initially. Foster an environment where ideas flow freely, valuing the symbiotic relationship between your vision and the designer's expertise.
Plan Your Design Timeline
Work closely with your selected interior designer to construct a comprehensive project timeline. This entails identifying crucial milestones, setting specific deadlines for different project phases, and coordinating tasks effectively. A well-defined timeline enables efficient allocation of resources and streamlines project progression, minimizing any potential disruptions. Proactively address potential hurdles and establish contingency plans to ensure the timeline remains intact.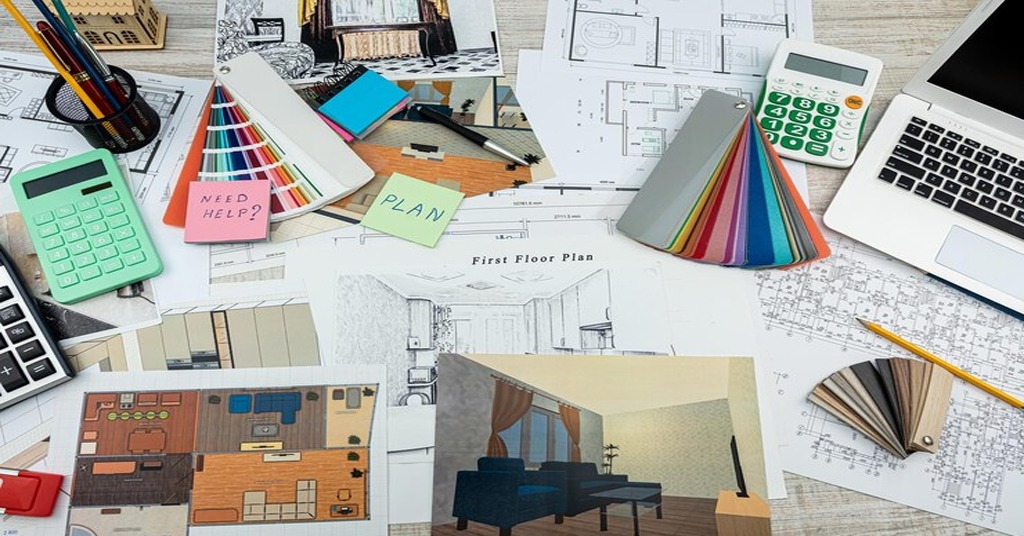 Double-Check Insurances & Warranties
Before finalizing your choice, verify the interior design company's insurance coverage to protect against unexpected damages while the project is underway. Equally important are warranties and guarantees on both materials used and the quality of workmanship. This serves as a safety net, providing assurance that your investment is secure and that the company is dedicated to the longevity and excellence of their work.
Product Choice
Pay close attention to how the interior designer approaches the selection of materials, furnishings, and finishes. A proficient designer should present you with a variety of options that match your style and budget. They consider factors like quality, practicality, and appearance when suggesting products. Having open conversations about product choices ensures your input while leveraging their expertise. By working together to pick products, you can curate a cohesive and visually pleasing space that not only meets your needs but also maintains its allure over time.
Summary
From defining your style and assessing quality to planning within your budget and discussing ideas, each step contributes to the masterpiece that is your dream home. With Orgo Interiors, you're not just getting a design service, you're finding a collaborator who's committed to making your dream home a reality.
At Orgo Interiors, we understand that your vision is distinct. Your home isn't just about aesthetics, it's about creating an environment that resonates with who you are.